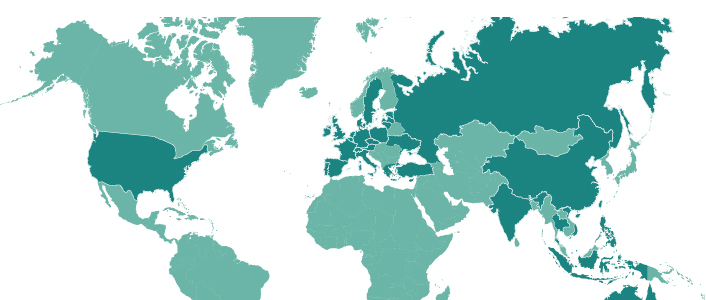 ETL: Germany's largest tax consultancy group
Modern consulting in a network, experts that complement each other
The ETL-Group was founded in 1968. In Germany the ETL-Group has over 840 offices and is represented worldwide in over 50 countries. In the domain of tax consultancy ETL is the market leader nationally and counts among the top 5 auditing and tax consultancy firms in Germany with a revenue about over 790 Mio. Euro. More than 7.000 employees are working in Germany for over 170.000 clients – including more than 1.400 tax consultants, lawyers, accountants, management consultants and financial service providers. An interdisciplinary consulting approach and a diversity of industry specialisations makes ETL to an ideal partner for companies, freelancers and self-employed from all sectors.
Experts that complement each other
ETL consultants work in a closely integrated network of various professional disciplines. Our clients profit from a tailored and complete allround consulting. Your personal consultant holds all strings in one hand and when required provides you with exactly the experts and services that you require. The proximity to our clients plays an important role.
Innovative solutions
With always new solutions we crate the decisive competitive advantage for our clients. The ETL PISA portal enables the easy and legally conform archiving of tax records and private documents. And the ETL entrepreneur portal presents exclusive offers and latest news of the ETL Group. Our successful industry solutions for petrol stations, healthcare professionals, hotels and restaurants, franchise systems, professional athletes and senior citizens are evidence of the ETL Group's innovative power and understanding of the markets. Today we are the market leader in the petrol station segment and market leader consultants for outpatient healthcare in Germany.
Advances through knowledge
ETL relies on expertise and know-how. We ensure the high consulting standard through the continual training and qualification of our experts. At the ETL academy Villa Westerberge numerous specialist courses are continually held. The ETL expert working groups combine the network-wide knowledge and offer highly specialised consulting for consultants. In addition we successfully rely on excellently trained young academics: most of our employees were trained at one of the ETL firms.
Further information
Our clients
Companies, freelancers and self-employed from all sectors
Private individuals
ETL offices

ETL offices – Find your ETL consultant here.
Central Hotline
Tel.: +49 30 22640200
Fax: +49 30 22640100
E-Mail: Please use our contact form
Overview: all contact data
ETL International
Find your international ETL office here.
ETL end-to-end package
The ETL consulting all-round package. Information.
Social commitment
We assume social responsibility. Information.